Shipping & Returns
SHIPPING
PLEASE NOTE: Both stores will be closed for Thanksgiving from
Wednesday 25th through Friday 27th

. Any online orders placed during this time will be processed and shipped out on Monday, November 30th.
Free 1-3 Day Shipping (orders of $50.00 or more) 
(Shipping may take longer than normal due to COVID-19)
Free 1-3 Day Shipping on orders over

$50.00

.

Must select Free 1-3 Day Shipping option during checkout.
Option will NOT show price of $0.00 unless items in your cart equal or exceed $50.00 in cost.

Order must have an actual or dimensional weight of 7lbs or less.
Orders for in stock items placed before 1:00 PM EST will be shipped from our warehouse within one business day.
Orders do not ship or deliver on Saturday, Sunday or observed holidays.
Delivery is guaranteed in 1-3 business days (depending on location shipping to) once the package departs our warehouse. 
Orders may be shipped in multiple packages, and there will be a separate charge for each shipment. Separate tracking information will be provided once each package has shipped.
Free ship method will be determined by destination
Offer not retroactive on prior purchases.
Limited Time Offer
Not responsible for weather-related delays or delays with shipping providers.

Customers will be contacted via email or phone with order or shipping issues.

Please make sure to provide accurate contact information where you could be reached quickly.
USPS SHIPPING OPTIONS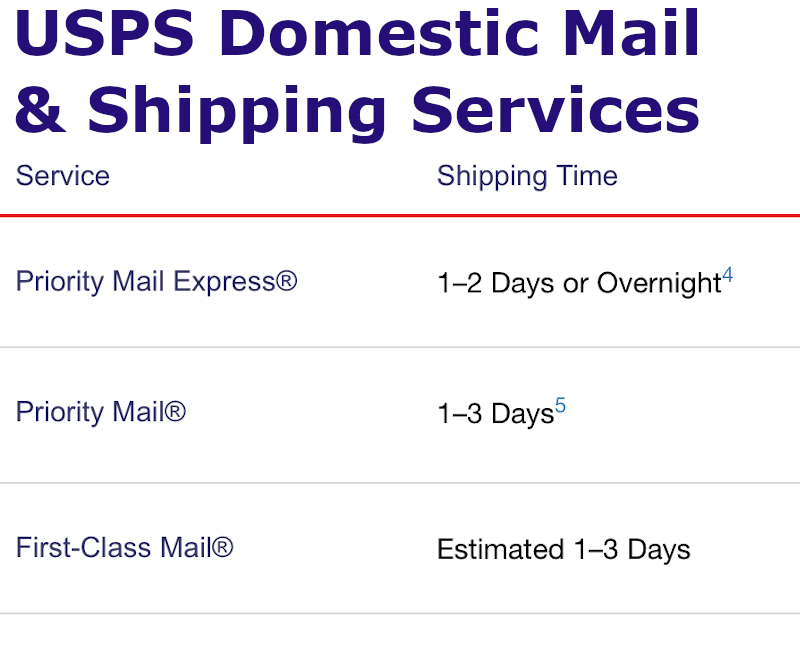 Depending on weight of package, some options (like First-Class Mail) will not be available.
USPS PRIORITY MAIL SHIPPING
Below is the map that will show the expected delivery timeframe once your item is shipped from our shipping Charlotte, NC ZIP Code: 28226.
Most shipments will arrive within 1-3 days of shipping.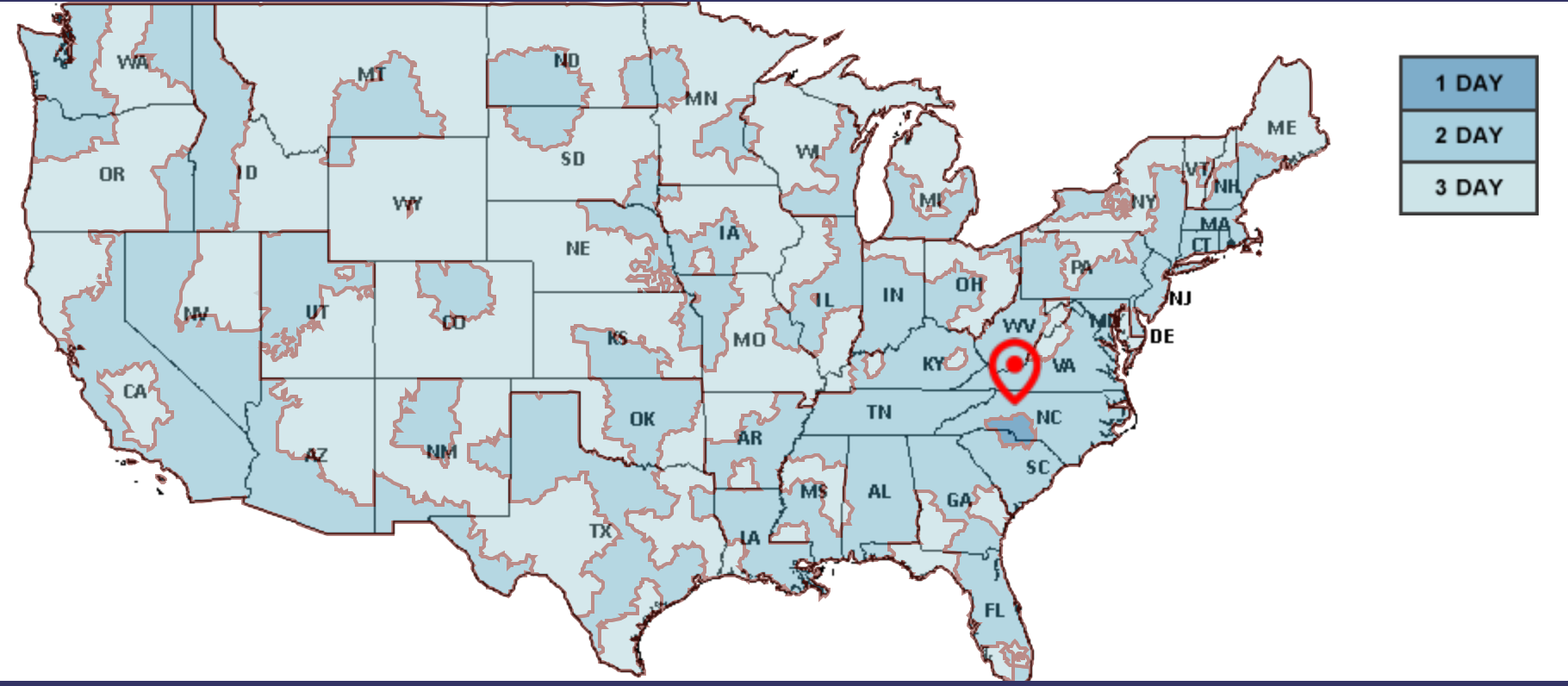 Customer In-Store Pickup
Charlotte/local customers may select In-Store Pickup online (select the store you wish to pick the item(s) up at during checkout). Please call 980-833-1272 if you need your order rushed through picking and processing.
RETURNS
Return Shipping
Pre-paid return label can be provided with qualifying orders. Customer needs to contact store to be sent a return label via email to be used.
The cost of a return shipping label will be

deducted

from the total refund amount available to customer.
Racquet Returns and Exchange
RACQUETS MUST BE RETURNED IN BRAND NEW CONDITION
Racquets in NEW condition UNSTRUNG (no ball fuzz, scrapes on racquet or grommets, or plastic removed from the handle), will be issued a FULL REFUND.
Any racquet that is returned in unused condition (no ball fuzz, scrapes on racquet or grommets, or plastic removed from the handle) BUT IS STRUNG, will be issued a full refund (excluding 1. string cost and 2. 10% restocking fee calculated from the total cost of the item).
Queen City Tennis will NOT accept used racquets for return. Used racquets will be returned to the customer. The shipping cost of any used product and subsequent return of the product are the responsibility of the customer.
Apparel Returns and Exchange
APPAREL MUST BE RETURNED IN BRAND NEW CONDITION, WITH ALL TAGS ATTACHED. Items cannot be washed or worn. Apparel items carry NO warranty from the manufacturer.
Items returned that do not comply with these guidelines will either be returned to the customer, or issued a Queen City Tennis Shop store credit, at the discretion of Queen City Tennis Shop. All shipping associated with the item will be the responsibility of the customer.
Packaging Instructions for Returns
To qualify for a refund or exchange, all of your items must be new and in their original packaging (with original tags and manufacturer packaging). If you ship to us any items that do not meet these qualifications, we reserve the right to issue a partial store credit, or to ship them back. Please read below for examples of proper packaging:
For Apparel: Apparel must be returned unworn, unwashed, and with its original tags attached.
For Racquets: Racquets must be new with the original plastic on the handle. No ball fuzz should be in the string bed. If you had your racquet strung at Queen City Tennis, the cost of the string will be deducted from your return (as well as a 10% restocking fee).

Unstrung racquets must be new with the original plastic on the handle and information face plate on the head of the racquet.
Disclaimers
Returns and exchanges are processed within 48 hours of arrival at Queen City Tennis Shop. Please allow an additional 72 hours for your credit to appear on your account. We ship exchanges within 48 hours. For any questions or concerns, please contact our Returns Department at 980-833-1272, or email [email protected] with the subject line: returns.
Queen City Tennis Shop reserves the right to refuse any items that are not in new / pristine condition, and that do not meet the requirements detailed in our guidelines. A restocking fee will be applicable at our discretion if any of our rules or procedures are not followed.